1 March 2022
When thinking of European foods, we wouldn't blame you if cheese covered pizzas or meaty dishes came to mind. While veganism isn't necessarily the norm, ordering a plant-based meal isn't as awkward as it used to be. With a number of vegan options popping up in cities across the continent, there has never been a better time to be vegan in Europe.
So, if you are thinking of heading off on European getaway, here are some of the best vegan-friendly cities you should look in to:
---

---
London, England
England and going to the pub go hand-in-hand. So, if you are looking for a place to eat vegan, you should seriously consider checking out England's most famous all-vegetarian pub. The Coach & Horses in Soho offers vegan and vegetarian remixes on British pub classics.
The Spread Eagle, which made history when it became the first pub to go 100% vegan, is another great place to go. Not only is everything served behind the bar completely vegan-friendly, but so is all the furniture and décor!
If pubs aren't your thing, don't fret, there is plenty of other options. London was ranked as the number one in 2019 as the most vegan-friendly city in the world thanks to its large number of vegan restaurants and eateries.
Berlin, Germany
The sheer number of vegan-friendly places in Berlin means that you're almost never more than five kilometres away from some amazing vegan food. A great starting point is ATAYA Caffee, which is a top-rated vegan restaurant that offers vegan renditions of lasagne and spaghetti, as well as acai bowls, raw cakes, and smoothies.
If you like Vietnamese food, then head for 1990 Vegan Living, which serves up sizzling bowls of vegan noodles and all sorts of delicious miniature tapas-style dishes.
Glasgow, Scotland
When it comes to vegan-friendly cities, Glasgow is up there with the best. Not only is it home to the Glasgow Vegan Festival (the largest vegan festival in Scotland), but it also has a number of vegan-friendly restaurants and eateries on its roster.
Make sure you grab breakfast at The 13th Note and check out the vegan haggis at Saramago Café Bar. For a mid-afternoon tea and (vegan) cake, you can't beat Cafe Strange Brew, which also serves excellent veggie and vegan breakfast fry-ups.
---
RELATED: UK And Europe Destinations Based On Your Travel Type
---
Prague, Czech Republic
Czech cuisine is not renowned for its veg-friendliness, but Prague is a hidden gem in this respect. For veg takes on traditional Czech food try Maitrea. You could also try out Balarama and dig into a giant plate of Indian cuisine. For something, a little different, try the vitamin-packed dishes at MyRaw Cafe, where everything is not only vegan but, yep, you guessed it, raw.
As an added bonus, generally speaking, Prague is so cheap you could literally eat yourself to bursting point without breaking your wallet.
Amsterdam, Netherlands
There are a lot of reasons you might chose to visit Amsterdam, and luckily, vegan food is now one of them. Vegabond is a beautiful little spot to grab a wrap or if you have a craving for some junk food, the Vegan Junk Food Bar, which has a number of locations across Amsterdam that serve crazily stacked burgers and fries loaded with onions, jalapeños, garlic and/or vegan cheese.
Stockholm, Sweden
Stockholm puts itself on the vegan radar by simply being home to Hermans, a vegetarian restaurant considered to be one of the best in Europe. Here you can enjoy a delicious lunch or dinner buffet. Just make sure you leave room for a slice of vegan cake.
If buffets aren't your thing, there is a wide of vegetarian and vegan restaurants for you to choose from. We recommend a trip to Farang, which is a rather snazzy Southeast Asian restaurant that offers a seven-course set vegan menu. Our recommendation is the stir fried sesban flower and sugar snap peas with mushrooms and ginger.
Barcelona, Spain
Spain isn't the easiest place to avoid meat, but Barcelona is certainly making an effort. In fact, Barcelona is so keen to be welcoming it declared itself 'veg-friendly, friend of vegan and vegetarian culture' in March 2017.
City Hall even produced its own vegetarian guide to the city and has encouraged its residents to try out meat-free Mondays.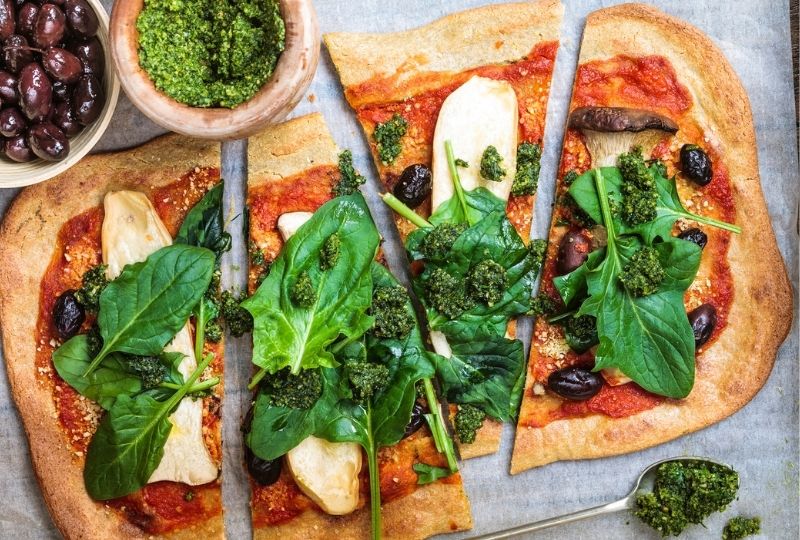 Like most places you'll find a mix of simple veg-friendly places and purely vegan restaurants like the appropriately-named Veggie Garden. Cake lovers should not miss the Santoni Cafeteria, which serves offer croissants and cupcakes as well as vegan sausages, smoothies and juices.
Paris, France
Try and go hungry as a vegan in Paris and you'll fail. With some of the best food you will eat in your life, we know you will be full!
We recommend vegan burger joint Hank Vegan which offers vegan fast-food that is to die for. Also, worth noting is La Boucherie Végétarienne (or the 'Vegetarian Butcher'), which doubles up as a fast-food place and fake meat retailer.
If raw food is your thing, then head for 42 Degrés, the first vegan raw food restaurant in the city, where everything is heated to no more than 42°C. If you go here, you must try the mushroom fondant with sunflower.
---
---
Other Travel Articles You Might Like...