Jordan Family Holiday
---
Deal Number 2928542
Repayments
Interest Free
Just go. Make your dream holiday your next holiday with easy Interest Free repayments over the next 9 months on packages over $999. For full product information please see our interest free page.
Plus $99 setup fee
Delve into the magical ancient world of Jordan on this exhilarating family adventure! This tour has been specially designed to highlight the most exciting corners of Jordan, from historical Jerash to magnificent Petra, from Wadi Rum desert to the blissful Red Sea coast. With a carefully weighted balance of activities and down time, your family will love this cultural Middle Eastern odyssey.
Duration 8 days
Destination Jordan
Company Intrepid
Availability From 08/08/2021 to 25/09/2022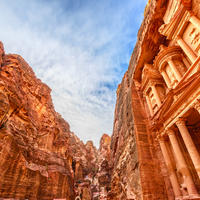 What's Included?
Follow in the footsteps of Indiana Jones and explore the amazing ancient city of Petra, with history brought to life by your incredible local leader
Camp in the middle of the desert in Wadi Rum under a blanket of stars – an unforgettable experience that your children won't forget!
Take a dip like no other in the Dead Sea
The strange feeling of floating effortlessly in the salt-filled water (don't be tempted to taste it!) of this unique ecosystem is something that will stay with you and your family for a long time
Discover the magical world that lies under the Red Sea with snorkelling around some of the world's best coral reefs
Cruise through the desert on a 4WD safari and witness a landscapes that's changed every day by the wind, then maybe explore in real desert style – by camel
Play gladiator in the ancient Roman city of Jerash, and re-enact more ancient epics in the crusader Kerak Castle
Breakfasts Included: 7
Lunches Included: 1
Dinners Included: 5
Hotel (5 nights),Desert camp (1 night),Resort (1 night)
Private Minivan
Age: min 5
Group Size: 2 - 16
Jerash - Roman ruins
Dana Village visit
Petra - Guided tour
Wadi Rum - 4WD jeep safari
Petra - Little Petra
Dead Sea - Visit including lunch
Availability
From 08/08/2021 to 25/09/2022
Visit Jordan
1 Amman/Jerash
Ahlan Wa Sahlan! Welcome to Jordan. If you have booked a transfer you'll be met at Queen Alia International Airport and transferred to your hotel. Otherwise, make your own way to the joining hotel, located in the heart of Amman, on the edge of the old downtown and within walking distance to the new city centre. Amman has served as the modern and ancient capital of Jordan and is one of the oldest continuously inhabited cities in the world, with a 1994 excavation uncovering homes and towers believed to have been built during the Stone Age (circa 7,000 BC). Today is the joining day and free for you to settle in. If you have time, head to major historical and biblical sites just 10 minutes walk away – the 6,000-seat Roman theatre built in the 2nd century, or the Citadel, which offers up panoramic views over the city from the highest hill in town. Within the Citadel is the museum that contains the Dead Sea Scrolls, and also the excavated ruins of an Umayyad palace. Maybe head to Rainbow Street for your first falafel tonight. We will have a group meeting at 5pm where you will meet your leader and fellow group members. Please look for a note in the hotel lobby or ask reception where it will take place. It's important that you attend, as we will be collecting insurance details and next of kin information for each member of your family. If you're going to be late, please let your travel agent or hotel reception know.
2 Amman - Jerash
This morning we take a delightful walk through the Ajloun Forest Reserve along the "Soap House Trail". We will hike through thick healthy woodland filled with oak, pistachio and oriental strawberry trees down to the Soap house, where local women follow the traditional process of making Orjan pure olive soap. We then continue onto Jerash. The ruins of Jerash were re-discovered in 1806 and continue to be one of Jordan's most amazing sites. One of the best examples of a Roman city in the Middle East, the ancient walled town that survives today is a remarkable evocation of life 2,000 years ago. With a history stretching back at least 2,300 years, Jerash is one of the best preserved examples of a provincial Roman town anywhere in the world. Its hey day came with the arrival of Alexander the Great and the remains include a forum, nymphaeum, hippodrome, two theatres (complete with numbered seats!) and several temples. Along the Colonnaded Street, grooves in the paving stones show where chariot wheels once rolled and remnants of exquisite mosaics still cover some floors. There is time to wander the site and imagine life in ancient times before returning to Amman with time to relax, or the opportunity to visit some of the city's sights, such as the Citadel.
3 Amman - Madaba - Dana Village - Petra
This morning we start our journey towards Petra, taking the Desert Highway south. En route we stop at Madaba. The historical town of Madaba is famous for its Ottoman-style houses and beautiful Byzantine-era mosaics, including the famous 6th-century mosaic map of Jerusalem and the Holy Land at St George's Church. Other mosaic masterpieces found within the Church of the Virgin and the Apostles and in the Archaeological Museum depict a rampant profusion of flowers and plants, birds and fish, animals and exotic beasts, as well as scenes from mythology and everyday pursuits such as hunting, fishing and farming. If these interest you, you'll be delighted to know that literally hundreds of other mosaics from the 5th to 7th centuries are scattered throughout Madaba's churches and homes. Just beyond Madaba is another biblical site, Mt Nebo, which overlooks the Jordan Valley. The bible tells us this is the final resting place of Moses; from here he looked out onto the Promised Land. Along the way today you may see the black 'beit ash shar' tents of the hardy Bedouin who still wander throughout the Middle East as they have for centuries. Moving between the few grazing spots which dot the parched landscape, they survive by breeding goats, sheep and camels. Although the traditional nomadic way of life is starting to disappear as some Bedouin succumb to the lure of fixed accommodation, many adhere stolidly to the old way - albeit with the occasional addition of a 4WD vehicle for transport!. Living in such a hostile environment has taught them the importance of a friendly welcome and the ancient code of hospitality to travellers still survives today. We will then take an easy walk around Dana village, a traditional village on a nature reserve allowing us to meet locals and learn about their history and culture as we walk through the terraced gardens ad local craft workshops. the views here are stunning. Then, head onto Petra to spend the night.
4 Petra
Make your way to Petra, squeezing through the long stretch of stonewall that eventually spills out into the breath-taking 'rose city' – one of the new Seven Wonders of the World. Though the origins are mysterious, it's thought this rock carved city was the ancient capital of the Nabatean people back in 600BC. Nobody in the West knew about it until 1812, when a Swiss explorer dressed up like a local, snuck in and then told the world. Your first glimpse of the iconic, intricate Treasury will be truly memorable, and you'll find that the site is surprisingly big. You can explore the old Roman road, temples and several old tombs, as well as the rock-hewn amphitheatre. If you have the legs, walk one-hour up to the Monastery and up the clifftop path overlooking the Treasury. When you've finished exploring, head back to the hotel to rest up and prepare for a unique cooking experience. At the nearby fully equipped, modern Al Qantara Kitchen, you'll taste Jordanian food, cook with a Jordanian chef, and have fun learning all about Arabic culture and cuisine. In a 2-hour class, prepare appetisers like baba ghanoush and hummus, then typical Jordanian mains like Maglouba, Kabsah or Mjadra, learning the secrets of these amazing Arabic tastes. Then enjoy it all with a big meal together, taking a copy of the recipes to impress everyone back home. Notes: A lot of walking is required to see Petra. A basic level of fitness will enhance your enjoyment. When entering Petra as a group, a complimentary horse ride is included in the ticket price from the entrance point down to the Siq. Intrepid doesn't recommend that passengers take this option due to the safety and insurance liability involved.
5 Wadi Rum
This morning before we leave we will visit Little Petra, have tea with a local Bedouin family. We will then drive to Wadi Rum, which offers some of the most extraordinary desert scenery anywhere and recently starred in the film "The Martian" Wadi Rum is full of weird and beautiful lunar-like rock formations. Traces of ancient civilisations can be seen in the many carved inscriptions found throughout the Wadi Rum area, from pictographs to Thamudic, Nabataean and Arabic texts. The most enduring monuments in Wadi Rum, however, are those carved by nature - the natural rock bridges, towering rose-coloured sand dunes and scattered rocky peaks. We will enjoy a 4WD desert discovery, stopping to enter a narrow siq where many inscriptions can be seen. Passing Thamud nomads from Saudi Arabia and the Nabataean people have all left their mark on the surrounding rocks. Nature provides a number of rock bridges that offer some stunning views. There is also the option to explore by camel. Sleep in a simple desert camp where you'll have the choice of sleeping under a camel hair tent or out under the stars. A mattress and blankets are provided. Please be aware that while the desert may be very hot during the day, it will still be cool at night and warm clothes and a sleeping bag is highly recommended when travelling outside of the summer months. A dinner cooked in a local earthen oven is included. Western-style toilet facilities are available. Conditions are basic at our desert camp, but the company of our Bedouin hosts is warm and you'll treasure the memory of sleeping beneath the twinkling desert night sky.
6 Aqaba
Today you'll drive from the desert to the coast (approximately 1 hour), for some fun, sun and relaxation. Aqaba is landlocked Jordan's only town on the sea, and this Red Sea beach resort is yours to explore for the rest of the day. Just south of town, the warm and relatively shallow waters of the Red Sea support a series of stunning untouched coral reefs practically unsurpassed outside Australia's Great Barrier Reef. They make for some of the best snorkelling you can find – the kids can grab a mask and some flippers and do their best mermaid impression. You might also take a boat trip if you don't want to get wet, take a long walk along the shoreline, or simply kick back by the pool. If you want to get historical then there's the 14th century Ottoman Fort to check out. This is where the T.E Lawrence (of 'of Arabia' fame) rode to Cairo with big news about a revolt. There are also plenty of cafes and restaurants to help you enjoy the local cuisine.
7 Dead Sea
Leaving Aqaba, travel along the King's Highway, a winding road that follows the contours of the rocky hills, occasionally passing nomadic shepherds as they tend their flocks in the few areas where there's water. Descend lower and lower until you eventually arrive on the shores of the Dead Sea (approximately 3 hours). This isn't actually a sea but a super-salty lake (seven times saltier than the ocean and 'dead' because of the lack of life in it), which lies at the lowest point on Earth (420 metres below sea level). The density of the water means that when you take a dip, it's more of a float than a swim, making for great photos. Maybe grab a handful of the shoreline's mud and slop it over your body on the way back in – it's full of nutrient-rich natural minerals that are meant to have healing properties, and will leave your skin feeling great. You'll stop at a private beach with pools and a gentle slope to the water. Towels are available for hire. Don't forget to pack your swimwear for today! This evening you can meet up with the rest of the group for a final meal together, and reflect on your adventures in this fascinating country.
8 Amman
After breakfast, this amazing adventure through Jordan comes to an end at your resort in the Dead Sea. Amman's Queen Alia International Airport is approximately one hour's drive from the Dead Sea.
View our great airfares, hotels and travel insurance.
Departure dates and Pricing
Departure Date
Return Date
Availability
Price
Enquire

Sun 8th August, 2021

08/08/2021

Sun 15th August, 2021

15/08/2021

Available
Enquire

»
Departure Date
Return Date
Availability
Price
Enquire

Sun 26th December, 2021

26/12/2021

Sun 2nd January, 2022

03/01/2021

Available
Enquire

»
Departure Date
Return Date
Availability
Price
Enquire

Mon 3rd January, 2022

04/01/2021

Mon 10th January, 2022

11/01/2021

Available
Enquire

»
Departure Date
Return Date
Availability
Price
Enquire

Sun 3rd April, 2022

04/04/2021

Sun 10th April, 2022

11/04/2021

Available
Enquire

»

Sat 9th April, 2022

10/04/2021

Sat 16th April, 2022

17/04/2021

Available
Enquire

»

Sun 10th April, 2022

11/04/2021

Sun 17th April, 2022

18/04/2021

Available
Enquire

»
Departure Date
Return Date
Availability
Price
Enquire

Sun 26th June, 2022

27/06/2021

Sun 3rd July, 2022

04/07/2021

Available
Enquire

»
Departure Date
Return Date
Availability
Price
Enquire

Sun 3rd July, 2022

04/07/2021

Sun 10th July, 2022

11/07/2021

Available
Enquire

»
Departure Date
Return Date
Availability
Price
Enquire

Sat 6th August, 2022

07/08/2021

Sat 13th August, 2022

14/08/2021

Available
Enquire

»
Departure Date
Return Date
Availability
Price
Enquire

Sun 18th September, 2022

19/09/2021

Sun 25th September, 2022

26/09/2021

Available
Enquire

»
Terms and conditions
The following product terms and conditions apply in addition to our Booking Terms and Conditions (available on our website) and terms and conditions of the relevant travel service provider.
Prices quoted valid for sale until 04 August 2021 for travel during the period specified (if applicable) unless otherwise stated or sold out prior.
All prices are per person (unless otherwise stated), subject to availability and may be withdrawn or varied without notice. Accommodation (if included) is based on twin share unless otherwise stated.
Advertised price includes bonus nights and/or stated saving (if applicable).
Additional supplier conditions and travel restrictions may apply. Please enquire for further details.
Airfare (including internal flights) is not included unless otherwise stated and, if included, is economy class unless otherwise stated.
Components of the total price including local payments, "resort fees", "national park fees", "trip kitties" and food funds (if applicable) may be payable direct to the supplier on arrival or to your travel consultant prior to your departure. Where applicable, these payments are included in the total price quoted.
Gratuities are not included unless otherwise stated.
Prices shown are fully inclusive of taxes, levies and government charges current at the time of publication.
Additional levies, government charges & other applicable fees, including additional taxes, surcharges and visa fees specific to your departure date or flight routing, may apply and are beyond our control.
Seasonal surcharges and blackout dates may apply depending on date of travel.
Prices shown are for payments made by cash in store or by BPAY.
Payments made in store by credit card will incur a surcharge (see Booking Terms and Conditions for further details).
These prices are a guide to the best price and are subject to change without notice, due to matters outside our control, such as adverse currency fluctuations, fuel surcharges, taxes and airfare increases. Please enquire for further details..
We receive payment from third party travel service providers when you use us to book travel and travel-related products and services with them on your behalf.
Our liability to you is limited in certain situations, and we may charge you a cancellation fee(s) in certain circumstances. See our booking terms and conditions for further details.
We may provide your personal information to third parties, including travel service providers with whom you make a booking. See our privacy policy for further details.
Important Notice
The above information has been obtained from the relevant suppliers and should be considered an indicative guide only as to the prices that may be available for these products. Flight Centre cannot guarantee that any particular product will still be available at the following prices, or for your exact dates of travel. At the time of making your booking, prices may differ to that price displayed on this website. Please contact a Flight Centre travel consultant to obtain the latest up to date information regarding applicable prices, fees and charges, taxes, availability, any blackout dates (such as school holidays), seasonal surcharges and other terms and conditions which may apply.
Contact an Expert to find out more about this tour and other amazing tours!
Talk to a travel expert and personalise your trip
From quick getaways to dream holidays
We're the biggest travel agency south of the equator with access to destinations right around the world. Anywhere you want to go, we can take you there.
Book Now Pay Later!
Where ever you want to fly, cruise, tour or stay, you can holiday sooner with our Interest Free Holidays.
Real People, Real Experience, Real Easy
Our Travel Experts love travel as much as you do. Book with us, knowing you're getting the best advice from the best in the business.