Jordan Real Food Adventure
---
Deal Number 4889815
Repayments
Interest Free
Just go. Make your dream holiday your next holiday with easy Interest Free repayments over the next 9 months on packages over $999. For full product information please see our interest free page.
Plus $99 setup fee
Jordan has a way of hiding more than ancient tombs and forgotten landscapes. For centuries, this jewel of the Levant has been a magnet for swaying influences and cultures – granting new flavours as these outsiders come and go. Phenomenally, the land itself helps its inhabitants cook and prepare meals: the sweeping deserts of Wadi Rum offer themselves to roast Bedouin feasts underground, the Dead Sea grants its salt as a world-class garnish and the country's climate has allowed olives to grow and thrive for over 6000 years. Jordan and food work synonymously through a relationship that borders on near myth – but this relationship is something that must be experienced first-hand to be truly understood.
Duration 6 days
Destination Jordan
Company Intrepid
Availability From 21/10/2021 to 27/12/2022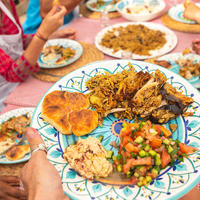 What's Included?
Uncover secret traditions and flavours with a Jordanian shepherd over breakfast
Drink fire-warmed sheep's milk, then scoop bread into a pot of rich Galayet Bandora
Take in the majesty and mystery of the treasury in Petra, often referred to as the Eighth Wonder of the World
You never forget your first glimpse of this unforgettable place
Savour the smells and tastes of a freshly prepared Bedouin zarb – slow roasted vegetables and juicy spiced meats cooked to perfection in an underground barbecue
Visit remarkable Petra, Jordan's 'Rose City, and sit down with locals for a hearty serving of mansaf, delicious lamb with fermented, dried yoghurt sauce
Meet Bedouin locals, learn about their ways, and sleep under the stars in a desert camp in the far-out destination of Wadi Rum
Breakfasts Included: 5
Lunches Included: 2
Dinners Included: 4
Hotel (4 Nights),Desert Camp (1 Night)
Private Vehicle,4WD Vehicle
Age: min 15
Group Size: 1 - 12
Amman - Welcome Dinner
Amman - Knafeh tasting
Madaba - St Georges Church
Dead Sea - Visit and float
Petra - Local Family Dinner
Petra - Guided tour of Petra
Wadi Rum - 4WD jeep safari
Wadi Rum - Zarb dinner
Petra - Breakfast with a shepherd
Amman - Beit Sitti maqluba cooking class and meal
Availability
From 21/10/2021 to 27/12/2022
Visit Jordan
1 Amman
Ahlan wa sahlan! Welcome to Amman. Your Jordan Real Food Adventure begins with a welcome meeting at 6 pm. This trip puts a focus on the delicious cuisine of Jordan, a gastronomy shaped by centuries of social and political change. As these shifts came and went, multitudes of spices, cooking techniques and ingredients remained in their culture – the most popular of these techniques proving that Jordanians' love for roasted foods and special sauces is one for the ages. Jordan also has bragging rights as one of the largest producers of olives in the world, so it's no surprise that olive oil is commonly used in their dishes. Garlic, onions, tomato sauce, lemon and za'atar (a spice blend with sumac, sesame seeds, salt and other spices) are all big-ticket items, and should pop up often on this adventure. After your meeting, get your first taste of Jordanian cuisine at the Hashem Restaurant – a favourite of royals, diplomats and celebrities travelling through Amman. Dinner will consist of their famous Jordanian stuffed falafel, which is fresh and crunchy on the outside while fluffy on the inside. There's also the chance to dip bread through smooth creamy hummus and moutabel – similar to hummus but with yoghurt, lemon juice and Arabic salad. After a filling meal, head on to the decades old Habibah Sweets shop for a slice of warm knafeh – delicious buttery cheese pastry soaked in sweet, sugar syrup.
2 Petra / Dead Sea
Keep an eye out this morning for people stuffing their faces with hot sesame bread sandwiches – most of these will be pouring out of the Salaheddin bakery, today's breakfast joint and a favourite among locals. Walk in, choose a hot, fresh loaf and fill it with baked eggs, cheese, spices or anything else you want from the counter. After filling up on arguably the best bread in town, board a bus and head to Madaba, famous for its Ottoman-style houses and beautiful Byzantine-era mosaics, including the acclaimed sixth-century mosaic map of Jerusalem and the Holy Land at St George's Church. After seeing the mosaics, head to the Dead Sea (approximately 45 minutes). This body of water is famously salty – 9.6 times saltier than the ocean. As a result, it's believed to have healing properties that can be tested first hand during an optional swim. After drying off, prepare for a traditional picnic lunch, mezze style. Mezze consists of setting up a series of small appetisers with a group of friends, then scooping them up with bread. Kibbeh (fried meat with wheat), manakish (flatbread with za'tar and olive oil), spinach bread and cheeses are all served, followed by a cup of shaneeneh (an aged goat milk yoghurt drink) and a serving of hareeseh (a sweet, syrupy pudding) for desert. Continue to Petra for dinner (approximately 3 hours). Learn from a local family how to prepare mansaf, delicious lamb with fermented, dried yoghurt sauce. After a hearty meal and a few shared stories from the family, arrive at your hotel near the ancient ruins of Petra.
3 Petra
Today you'll have the chance to explore ancient Petra, known as one of the new 'seven wonders of the world'. This archaeological city sits within 80-metre-high cliff walls – the iconic treasury, carved into the face of one of these cliffs, is the highlight of this visit. The site is expansive and to explore it all requires quite a bit of walking, and a basic level of fitness will enhance your experience. With a free afternoon to proceed at your own pace, there's ample time to see the museum, the Roman amphitheatre, the palace and other places – just head to the visitor centre for a map and a few suggestions as to where to go. Once the day is done, head back to your hotel for a free evening.
4 Wadi Rum
Rise early this morning as today's breakfast will be shared with a local shepherd as you bask in awe of the beautiful dry countryside. By this stage of the adventure, it should be apparent that a Jordanian breakfast is varied but sticks to a few staples; breads and garnishes being two of the favourites. A typical breakfast can consist of hummus, falafel, salad, pickles and khubz (a pita style bread), although dipping flatbread into olive oil then za'atar is also common. A mezze style breakfast under this towering scenery will be the perfect setting to chat with the shepherd and learn about the life and culture of a local. Afterwards, head on to Wadi Rum (approximately a 3 hour drive), a place often referred to as The Valley of the Moon. Enjoy a true Lawrence of Arabia moment while exploring the sparse red sand dunes, steep craggy mountains and the legendary Seven Pillars of Wisdom rock formation on a 4-hour jeep ride through the region. Later, head back to a Wadi Rum campsite for a traditional Bedouin barbecue, known as zarb. Zarb is one of the staples of Bedouin culture, capturing a long running tradition of cooking food underground in earth ovens. Bedouin locals will prepare dinner by digging a large hole in the ground and stoking a coal fire underneath it. Then, meat is prepared with water, lemon juice, pepper and salt before adding a variety of vegetables. A multi-layered barbecue rack is used to cook everything with the meat at the top and the veggies at the bottom. Once it's cooked, enjoy this hearty meal before enjoying an evening under the stars.
5 Amman
This morning starts off with a delicious Bedouin breakfast – not to be confused with bed and breakfast! This typically consists of labneh (strained yoghurt, usually served with olive oil), zait (olives), za'atar, jebneh (cheese pastry) and tomatoes. You may get the chance to wash it all down with a cup of Bedouin whiskey; it's non-alcoholic and consists of tea with sugar and sage, so don't worry about getting tipsy before lunch. Prepare for a 3.5-hour drive back to Amman through stunning desert scenery and stop for a delicious falafel sandwich along the way. The final meal of this Real Food Adventure awaits in the city with a self-prepared dinner at the Beit Sitti cooking school, known as one of the most innovative developments in Jordan's dining scene. Visitors to the school get to cook (and eat) an authentic meal under supervision, with tonight's dish being maqluba. Literally translating to 'upside down', maqluba is a casserole with rice, vegetables and chicken which is cooked, flipped, then served with either yoghurt or an Arab salad with tahina sauce. Savour this last meal with newfound friends before the trip comes to an end tomorrow morning.
6 Amman
With no activities planned today, you are free to leave at any time. However, that doesn't mean that your food adventures have to come to an end! If you would like to consider continuing your journey with a culinary escapade through Israel, search for our trips Israel Real Food Adventure (EUZF) and Jordan, Israel & the Palestinian Territories Real Food Adventure (EUZJC) on our website.
View our great airfares, hotels and travel insurance.
Departure dates and Pricing
Departure Date
Return Date
Availability
Price
Enquire

Thu 21st October, 2021

21/10/2021

Tue 26th October, 2021

26/10/2021

Available
Enquire

»
Departure Date
Return Date
Availability
Price
Enquire

Thu 18th November, 2021

18/11/2021

Tue 23rd November, 2021

23/11/2021

Available
Enquire

»
Departure Date
Return Date
Availability
Price
Enquire

Thu 23rd December, 2021

23/12/2021

Tue 28th December, 2021

28/12/2021

Available
Enquire

»
Departure Date
Return Date
Availability
Price
Enquire

Thu 17th March, 2022

18/03/2021

Tue 22nd March, 2022

23/03/2021

Available
Enquire

»
Departure Date
Return Date
Availability
Price
Enquire

Thu 14th April, 2022

15/04/2021

Tue 19th April, 2022

20/04/2021

Available
Enquire

»
Departure Date
Return Date
Availability
Price
Enquire

Thu 23rd June, 2022

24/06/2021

Tue 28th June, 2022

29/06/2021

Available
Enquire

»
Departure Date
Return Date
Availability
Price
Enquire

Thu 15th September, 2022

16/09/2021

Tue 20th September, 2022

21/09/2021

Available
Enquire

»

Thu 29th September, 2022

30/09/2021

Tue 4th October, 2022

05/10/2021

Available
Enquire

»
Departure Date
Return Date
Availability
Price
Enquire

Thu 20th October, 2022

21/10/2021

Tue 25th October, 2022

26/10/2021

Available
Enquire

»
Departure Date
Return Date
Availability
Price
Enquire

Thu 17th November, 2022

18/11/2021

Tue 22nd November, 2022

23/11/2021

Available
Enquire

»
Departure Date
Return Date
Availability
Price
Enquire

Thu 22nd December, 2022

23/12/2021

Tue 27th December, 2022

28/12/2021

Available
Enquire

»
Terms and conditions
The following product terms and conditions apply in addition to our Booking Terms and Conditions (available on our website) and terms and conditions of the relevant travel service provider.
Prices quoted valid for sale until 04 August 2021 for travel during the period specified (if applicable) unless otherwise stated or sold out prior.
All prices are per person (unless otherwise stated), subject to availability and may be withdrawn or varied without notice. Accommodation (if included) is based on twin share unless otherwise stated.
Advertised price includes bonus nights and/or stated saving (if applicable).
Additional supplier conditions and travel restrictions may apply. Please enquire for further details.
Airfare (including internal flights) is not included unless otherwise stated and, if included, is economy class unless otherwise stated.
Components of the total price including local payments, "resort fees", "national park fees", "trip kitties" and food funds (if applicable) may be payable direct to the supplier on arrival or to your travel consultant prior to your departure. Where applicable, these payments are included in the total price quoted.
Gratuities are not included unless otherwise stated.
Prices shown are fully inclusive of taxes, levies and government charges current at the time of publication.
Additional levies, government charges & other applicable fees, including additional taxes, surcharges and visa fees specific to your departure date or flight routing, may apply and are beyond our control.
Seasonal surcharges and blackout dates may apply depending on date of travel.
Prices shown are for payments made by cash in store or by BPAY.
Payments made in store by credit card will incur a surcharge (see Booking Terms and Conditions for further details).
These prices are a guide to the best price and are subject to change without notice, due to matters outside our control, such as adverse currency fluctuations, fuel surcharges, taxes and airfare increases. Please enquire for further details..
We receive payment from third party travel service providers when you use us to book travel and travel-related products and services with them on your behalf.
Our liability to you is limited in certain situations, and we may charge you a cancellation fee(s) in certain circumstances. See our booking terms and conditions for further details.
We may provide your personal information to third parties, including travel service providers with whom you make a booking. See our privacy policy for further details.
Important Notice
The above information has been obtained from the relevant suppliers and should be considered an indicative guide only as to the prices that may be available for these products. Flight Centre cannot guarantee that any particular product will still be available at the following prices, or for your exact dates of travel. At the time of making your booking, prices may differ to that price displayed on this website. Please contact a Flight Centre travel consultant to obtain the latest up to date information regarding applicable prices, fees and charges, taxes, availability, any blackout dates (such as school holidays), seasonal surcharges and other terms and conditions which may apply.
Contact an Expert to find out more about this tour and other amazing tours!
Talk to a travel expert and personalise your trip
From quick getaways to dream holidays
We're the biggest travel agency south of the equator with access to destinations right around the world. Anywhere you want to go, we can take you there.
Book Now Pay Later!
Where ever you want to fly, cruise, tour or stay, you can holiday sooner with our Interest Free Holidays.
Real People, Real Experience, Real Easy
Our Travel Experts love travel as much as you do. Book with us, knowing you're getting the best advice from the best in the business.