ALASKA & THE YUKON WITH CRUISE
---
Deal Number 13646082
Repayments
Interest Free
Just go. Make your dream holiday your next holiday with easy Interest Free repayments over the next 9 months on packages over $999. For full product information please see our interest free page.
Plus $99 setup fee
This Alaska and the Yukon Territory tour features many of the most popular scenic vistas that Alaska and the Yukon Territory have to offer—beginning and ending in Anchorage. Along the way, take a boat to view breathtaking Mears Glacier on Prince William Sound and watch for eagles, whales, dolphins, mountain goats, and more. Between Valdez and Tok, enjoy views of Bridal Veil Falls, Worthington Glacier, and Thompson Pass. Between Tok and Whitehorse, behold spectacular vistas of Kluane National Park's rugged mountains. Between Dawson City and Fairbanks, delight in the stunning scenery as you motor over the Top of the World Highway. More magnificent scenery awaits you on your journey aboard the Alaska Railroad between Fairbanks and Denali National Park. Travel through untamed wilderness and delight in viewing the awe-inspiring scenery via wide windows and the domed-roof car. With its six million acres, Denali National Park & Preserve is home to North America's highest peak and offers majestic landscapes. Your two nights in Denali give you the opportunity to explore on your own or to take optional outings, such as a helicopter ride over the park or a wilderness tour to seek out grizzly bears, moose, and more. In addition to witnessing breathtaking scenery, this Alaska and Yukon Territory tour offers you a chance to learn about the Klondike Gold Rush. Follow the Trail of '98 over the same mountains that determined gold seekers travelled in the middle of winter. Visit Skagway, where thousands of hopeful miners came in 1898, and stroll the wooden sidewalks. In Dawson City, see where the first gold strike was made and enjoy the ragtime music, can-can girls, and old-fashioned casino just as the prospectors did over a century ago. But that's not all… your Alaska holiday includes a 7-night Alaska cruise. Explore the remote and rugged beauty of areas such as Glacier Bay National Park, Juneau, Ketchikan, and the amazing Inside Passage. With magnificent scenery, opportunities to witness wildlife in the natural environment, and awe-inspiring experiences, this Alaska tour is a once-in-a-lifetime holiday! Please note: Itinerary is based on 2021, and is subject to change. Full details will be confirmed in September 2021.
Duration 19 days
Destination Canada
Company Cosmos
Availability From 15/06/2022 to 11/09/2022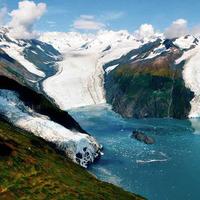 What's Included?
Breakfasts Included: 7
Lunches Included: 6
Dinners Included: 7
Breakfasts Included: 7
Lunches Included: 6
Dinners Included: 7
Availability
From 15/06/2022 to 11/09/2022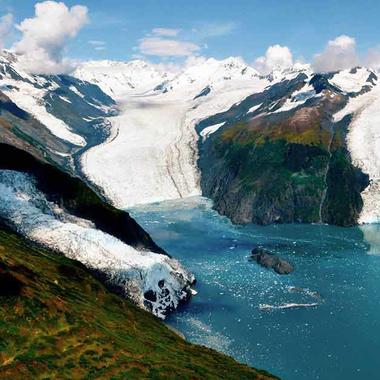 Visit Canada
HIGHLIGHTS:
Highlights on your morning sightseeing tour include Bonanza Creek, site of Claim #1, where the first gold strike was made; and Robert Service Interpretive Centre, where you'll get a firsthand glimpse into the life of this famous wordsmith, along with genuine Gold Rush era items. Enjoy a photo opportunity at the SS Keno, the last sternwheeler to run between Dawson and Whitehorse. The rest of your day is free to soak up the exciting history of this Gold Rush town at your own pace. Perhaps a return to Diamond Tooth Gertie's Saloon is in order?
1 ANCHORAGE
Welcome to Anchorage! Your Tour Director is on hand late this afternoon to answer any questions.
2 ANCHORAGE-WHITTIER-VALDEZ
As you enter Whittier from North America's 0longest tunnel, the panoramic view of the ocean, mountains, and glaciers greet you. As0 the gateway to Prince William Sound, this is where you'll board a Glacier cruise for an up-close look along the 3-mile face of Meares Glacier, and the epicentre of the Great Alaskan Earthquake of 1964. Watch for eagles, whales, mountain goats, dolphins, and sea lions! Overnight in Valdez, the "Switzerland of Alaska."
3 VALDEZ-TOK
Leave Valdez, home of the Alyeska Pipeline Terminal, and enjoy views of Bridal Veil Falls, Worthington Glacier, and Thompson Pass. Visit the Wrangell-St. Elias Visitor Centre and discover why this vast national park measures in size six times that of Yellowstone National Park, and rises from the ocean to 18,008 feet. Overnight in Tok, the "Dog Sled Capital of the World."
4 TOK-WHITEHORSE
Join the Alaska Highway and follow along the Tetlin National Wildlife Refuge. Skirt the shores of Kluane Lake, once a meeting place for crews constructing the Alaska Highway. Behold spectacular vistas of the rugged mountains of Kluane National Park, home to 19,551-foothigh Mount Logan, Canada's highest peak. The next two nights are in Whitehorse, capital of the Yukon and the territorial headquarters of the Royal Canadian Mounted Police.
5 WHITEHORSE. EXCURSION TO SKAGWAY
Follow the Trail of '98 over the same mountains that thousands of determined gold seekers scaled on foot in the dead of winter while heading for the Klondike. From Fraser, your Tour Director will suggest an optional train trip on the narrow-gauge White Pass & Yukon Railway to Skagway. Otherwise, continue by motorcoach to Skagway. Stroll the wooden sidewalks past charming false-front buildings and colourful saloons. NOTE: Operation of the White Pass & Yukon Railway to Skagway is subject to seasonal conditions.
6 WHITEHORSE-DAWSON CITY
Head northwest through the town of Carmacks, once an important supply station for gold seekers on their way to the Klondike. A stop at the Five Finger Rapids, a major obstacle to the hordes of fortune seekers that passed this way. Reach Dawson City, the centre of excitement after the first gold strike in the Klondike in 1896, which led to the world's largest gold rush. Tonight, enjoy the highflying entertainment of Dimond Tooth Gertie's Saloon, featuring ragtime music, can-can girls, and an old-fashioned casino.
7 DAWSON CITY
8 DAWSON CITY-FAIRBANKS
A full day and well worth it, as the scenery is magnificent. Have your camera ready for photo opportunities at Dawson overlook and Top of the World Highway, where the motorcoach will re-enter Alaska, and visit one of the last surviving gold rush towns in Alaska before heading west on the Alaska Highway. Stop at an authentic Alaska roadhouse before your evening arrival in Fairbanks.
9 FAIRBANKS
Morning sightseeing features highlights of Alaska's second-largest city and a visit to the Trans-Alaska Pipeline. Board the Sternwheeler Riverboat Discovery III for a leisurely cruise on the Chena River. You will see a bush floatplane take off alongside the boat, visit the home and kennels of the late four-time Iditarod winner, Susan Butcher, and see her champion sled dogs in action. Be immersed into the ancient Athabascan Indian culture when our Alaskan Native Guides take you on a personalised tour of the Chena Indian Village.
10 FAIRBANKS-ALASKA RAILROAD-DENALI NATIONAL PARK
Board the world famous Alaska Railroad for a memorable journey through untamed wilderness. Sit back in comfort and enjoy spectacular scenery through wide windows. Be sure to take advantage of the domed-roof car. The ride ends in Denali National Park & Preserve. North America's highest peak, 20,310-foot Denali, formerly known as Mount McKinley, dominates the park's six million acres of glacial streams, river valleys, and multi-coloured tundra. After a short orientation tour of Denali, the afternoon is free to explore on your own.
11 DENALI NATIONAL PARK
A free day for independent activities. A hike along the many wilderness trails might be good fun. Also take advantage of several optional outings, including a wildlife tour to seek out grizzly bears, caribou, moose, and Dall sheep; a raft trip down the Nenana River; or a helicopter ride over the park. Your Tour Director will have plenty of other suggestions.
12 DENALI NATIONAL PARK-ANCHORAGE- WHITTIER (EMBARKATION).
Relish one last look at the outstanding scenery and wildlife of Denali before travelling south toward Anchorage. Stop along the way at the Iditarod Headquarters, home of the great dogsled race. After arrival in Anchorage, transfer to Whittier and board your cruise ship. This remote village is nestled along breathtaking Prince William Sound, home to a stunning array of wildlife, including bald eagles, sea otters and killer whales, so have your camera ready. (D)
13 CRUISING: HUBBARD GLACIER
Hubbard is the longest tidewater glacier (meaning it ends at the ocean) in North America. However, unlike nearly every other tidewater glacier on the continent, Hubbard is advancing, not retreating; it is forever pushing a little further into the bay. Chunks of ice that break off become floaties for seals. (B,L,D)
14 SCENIC CRUISING: GULF OF ALASKA
A relaxing day at sea provides time to explore the ship's many amenities. Animal and marine life are abundant in this area and, with a little luck, you may spot a pod of mighty yet graceful killer whales. (B,L,D)
15 SKAGWAY
In winter, the sidewalks are all but rolled up in Skagway, so you can imagine the frightful conditions endured by gold prospectors who passed through en route to the Yukon. Take your time and poke your head into every little shop, from the Trail Bench to Lynch & Kennedy's Dry Goods. The Red Onion Saloon, with its honky-tonk piano and costumed barmaids, is a treasure trove of memorabilia featuring pictures of Klondike Kate, Peahull Annie, and other historic characters. To complete the picture of those rip-roaring days, visit the nostalgic Trail of '98 Museum. (B,L,D)
16 JUNEAU
Located at the foot of grand mountain peaks on Gastineau Channel, Alaska's capital city of Juneau has massive Mendenhall Glacier and the Juneau Icefield at its back door. Visit the rustic shops in town-or get out and kayak, raft, hike, whale watch, flightsee, or fish. There is no end to the adventure because of the long daylight hours. (B,L,D)
17 KETCHIKAN
Alaska's "First City" of Ketchikan is so named because it is the first major landfall for most cruisers as they enter the picturesque fjords of the Inside Passage, where the town clings to the banks of the Tongass Narrows, flanked by green forests nurtured by abundant rain. An important hub of the salmon-fishing and -packing industries- visitors can try their luck on a sport-fishing excursion or simply savor the fresh seafood at one of the local restaurants. It is also one of the best spots along the Inside Passage to explore the rich cultural sights of Native Alaskan nations like the Tlingit, Haida and Tsimshian. (B,L,D)
18 SCENIC CRUISING: INSIDE PASSAGE
Arguably one of the greatest cruising routes in the world, the Inside Passage stretches through stunning landscapes, from Misty Fjords National Monument to famed Glacier Bay National Park & Preserve. Sailing the Inside Passage offers opportunities to spot some of Alaska's most iconic wildlife, with humpback whales and orca plying the bountiful waters alongside the ships, bald eagles soaring overhead and brown bears lumbering on the shoreline. (B,L,D)
19 VANCOUVER (DISEMBARKATION)
Your cruise ends this morning. Please schedule homebound flights after Noon. (B)
View our great airfares, hotels and travel insurance.
Departure dates and Pricing
Departure Date
Return Date
Availability
Price
Enquire

Wed 15th June, 2022

16/06/2021

Sun 3rd July, 2022

04/07/2021

Available
Enquire

»
Departure Date
Return Date
Availability
Price
Enquire

Wed 10th August, 2022

11/08/2021

Sun 28th August, 2022

29/08/2021

Available
Enquire

»

Wed 24th August, 2022

25/08/2021

Sun 11th September, 2022

12/09/2021

Available
Enquire

»
Terms and conditions
The following product terms and conditions apply in addition to our Booking Terms and Conditions (available on our website) and terms and conditions of the relevant travel service provider.
Prices quoted valid for sale until 04 August 2021 for travel during the period specified (if applicable) unless otherwise stated or sold out prior.
All prices are per person (unless otherwise stated), subject to availability and may be withdrawn or varied without notice. Accommodation (if included) is based on twin share unless otherwise stated.
Advertised price includes bonus nights and/or stated saving (if applicable).
Additional supplier conditions and travel restrictions may apply. Please enquire for further details.
Airfare (including internal flights) is not included unless otherwise stated and, if included, is economy class unless otherwise stated.
Components of the total price including local payments, "resort fees", "national park fees", "trip kitties" and food funds (if applicable) may be payable direct to the supplier on arrival or to your travel consultant prior to your departure. Where applicable, these payments are included in the total price quoted.
Gratuities are not included unless otherwise stated.
Prices shown are fully inclusive of taxes, levies and government charges current at the time of publication.
Additional levies, government charges & other applicable fees, including additional taxes, surcharges and visa fees specific to your departure date or flight routing, may apply and are beyond our control.
Seasonal surcharges and blackout dates may apply depending on date of travel.
Prices shown are for payments made by cash in store or by BPAY.
Payments made in store by credit card will incur a surcharge (see Booking Terms and Conditions for further details).
These prices are a guide to the best price and are subject to change without notice, due to matters outside our control, such as adverse currency fluctuations, fuel surcharges, taxes and airfare increases. Please enquire for further details..
We receive payment from third party travel service providers when you use us to book travel and travel-related products and services with them on your behalf.
Our liability to you is limited in certain situations, and we may charge you a cancellation fee(s) in certain circumstances. See our booking terms and conditions for further details.
We may provide your personal information to third parties, including travel service providers with whom you make a booking. See our privacy policy for further details.
Important Notice
The above information has been obtained from the relevant suppliers and should be considered an indicative guide only as to the prices that may be available for these products. Flight Centre cannot guarantee that any particular product will still be available at the following prices, or for your exact dates of travel. At the time of making your booking, prices may differ to that price displayed on this website. Please contact a Flight Centre travel consultant to obtain the latest up to date information regarding applicable prices, fees and charges, taxes, availability, any blackout dates (such as school holidays), seasonal surcharges and other terms and conditions which may apply.
Contact an Expert to find out more about this tour and other amazing tours!
Talk to a travel expert and personalise your trip
From quick getaways to dream holidays
We're the biggest travel agency south of the equator with access to destinations right around the world. Anywhere you want to go, we can take you there.
Book Now Pay Later!
Where ever you want to fly, cruise, tour or stay, you can holiday sooner with our Interest Free Holidays.
Real People, Real Experience, Real Easy
Our Travel Experts love travel as much as you do. Book with us, knowing you're getting the best advice from the best in the business.