Jordan Adventure
---
Deal Number 12872036
Repayments
Interest Free
Just go. Make your dream holiday your next holiday with easy Interest Free repayments over the next 9 months on packages over $999. For full product information please see our interest free page.
Plus $99 setup fee
Is this trip for you? REWARDING. SURPRISING. CAPTIVATING. We could explain the name, but that would be patronising. Ancient Crusader castles and ruined Roman cities. Breath-taking views over the Promised Land and iconic stone facades. World-class dive sites and endless desert dunes. And alllllll the mouthwatering shawarma, moutabal and falafel in between. This is one BIG adventure - neatly tucked into eight incredibly diverse days. Hit 'BOOK NOW' and watch Jordan smash your expectations out of the ballpark - one moment at a time.  
Duration 8 days
Destination Jordan
Company Topdeck
Availability From 10/10/2021 to 27/03/2022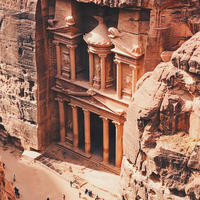 What's Included?
Visit Madaba
Visit Mt Nebo
Visit Karak Castle
Orientation tour of Petra
Wadi Rum 4x4 excursion
Stay overnight in Bedouin desert camp
Float in the Dead Sea
Guided city tour of Amman
See the Roman ruins of Jerash
Availability
From 10/10/2021 to 27/03/2022
Visit Jordan
HIGHLIGHTS:
Amman - Petra via Madaba - Petra - Wadi Rum - Aqaba - Amman via the Dead Sea
Day 1 Amman, Jordan
Touch down in one of the oldest cities in existence.
Ready to experience the new and exotic? Thought so. Spot your Topdeck Rep at the airport (hint: they're holding a placard with your name on it). Dump your stuff at the hotel and meet the gang. We might be a mixed bunch but we're all in it together. Hungry? Gather the troops and head to Hashem Restaurant for the best dang falafel you've ever had. Period.
Day 2 Amman to Petra via Madaba, Mt Nebo and Karak
Rise and shine! We're off to the Lost City after breakfast.
But it's not just about the destination - the road to Petra is gonna' be amazing. First? Madaba: the site of an ancient holy map that's so detailed it puts Google Maps to shame. Check out the vibrantly coloured and intricately detailed Byzantine-era mosaics scattered across the city before we take in allllll the views of the Promise Land from Mt Nebo. Seen Kingdom of Heaven? Channel your inner Orlando Bloom as we storm through the Crusader stronghold of Karak Castle. And to round it all up? Experience Petra - by night. Opt in to take a goosebump-inducing walk down the dark ravine, following the sound of traditional music and the soft glow of a candle-lit desert floor. Awesome is an understatement.
Day 3 Petra
Words can't describe how breathtaking this place is, so why would we try? Spend the whole day uncovering the magic of the Lost City and learn why people have been drawn to this place since 312 BC.
With towering burning-red cliff faces and a façade made famous by Indiana Jones - this place is a testament to man's ability to create beauty from absolutely nothing. Get your bearings on an orientation tour with our expert Trip Leader. Then: the rest of the day is yours to explore. Just be back in time for tonight's optional dinner - a delicious traditional meal of maqluba with a local family. This is as authentic as it gets.
Day 4 Petra to Wadi Rum
Back in the day, camels were the go-to way to cross the desert.
But they're uncomfortable and smell bad. Instead, we'll switch the coach for a 4X4 and venture across The Valley of the Moon to our traditional Bedouin Camp - in the heart of the Jordanian desert. If you want to see if Alice really does have two humps - there's an optional ride on offer today. Or just sit back and take it all in. This is your moment. Tonight's included dinner is brought to you by one of the world's most ancient nomadic tribes - tuck in around the camp fire and learn all about Bedouin life with your trip mates. We're spending the night under the best-looking night sky you've ever laid eyes on. Heck yes!
Day 5 Wadi Rum to Aqaba
From a sea of burnt-red sand to well, the actual sea - we're making tracks to Jordan's only coastal city.
A city that dates back to 4,000 BC - Aqaba's temps rarely drop below 20°C and is located smack bang in the middle of the Red Sea. Meaning? It's THE place for diving, snorkelling and Nemo-spotting. And you've got the whole afternoon to do just that. Scuba dive around sunken military tanks, transport planes and Lebanese freighters. Go snorkelling with colourful fish, a variety of corals and green turtles (maybe). Then, gather the gang for a shawarma (Jordanian kebab) and sunset on the beach. This is livin'.
Day 6 Aqaba to Amman via the Dead Sea
Ready to tick "bob on top of the Dead Sea" off your bucket list? Today is your day.
At 427m below sea level (the lowest point on Earth), the Dead Sea is so salty you can float weightlessly around like last night's second helping of shawarma didn't happen. Tip: avoid shaving your legs, face or other...parts too close to your swim. Sh*t stings! Give yourself a free spa treatment with the mineral-laden mud. Snap a pic for mum. And pile back on the coach - we're heading back to Amman for an education in the Roman, Byzantine AND Umayyad empires that have left their mark on this place. Check out the Roman Amphitheatre, Citadel and melting pot of ancient historical sites on a city tour before heading downtown with the gang for a falafel feed.
Day 7 Amman
Crank the history knob to 11 with a visit to Jerash - home to a bunch of Greco-Roman highlights, including a hippodrome which was used for chariot racing (and has nothing to do with hippos).
Check out Hadrian's Arch and the Temple of Zeus. Stroll down the columned cardo maximus. Then find a fallen column to rest up on and enjoy the incredible views. Embrace it all. Back in Amman, you've got the afternoon free to do your own spontaneous this-is-what-I-came-for thing. Head Downtown for all the ancient city vibes. Take a coffee break in the hip area of Jabal Al Lweibdeh. Check out the thriving contemporary art scene in Jabal Amman. And tonight, gather the gang and make a bee-line for Rainbow Street. Full of cafes, restaurants and outdoor terraces - it's the perfect place to give this incredible adventure the send-off it deserves!
Day 8 Amman
Down your pomegranate juice and brush away those tears - we'll say our goodbyes after breakfast.
Swap those Insta handles and pencil in next year's reunion trip.
View our great airfares, hotels and travel insurance.
Departure dates and Pricing
Departure Date
Return Date
Availability
Price
Enquire

Sun 10th October, 2021

10/10/2021

Sun 17th October, 2021

17/10/2021

Enquire

»
Departure Date
Return Date
Availability
Price
Enquire

Sun 14th November, 2021

14/11/2021

Sun 21st November, 2021

21/11/2021

Enquire

»
Departure Date
Return Date
Availability
Price
Enquire

Sun 12th December, 2021

12/12/2021

Sun 19th December, 2021

19/12/2021

Enquire

»
Departure Date
Return Date
Availability
Price
Enquire

Sun 2nd January, 2022

03/01/2021

Sun 9th January, 2022

10/01/2021

Enquire

»
Departure Date
Return Date
Availability
Price
Enquire

Sun 13th February, 2022

14/02/2021

Sun 20th February, 2022

21/02/2021

Enquire

»
Departure Date
Return Date
Availability
Price
Enquire

Sun 20th March, 2022

21/03/2021

Sun 27th March, 2022

28/03/2021

Enquire

»
Terms and conditions
The following product terms and conditions apply in addition to our Booking Terms and Conditions (available on our website) and terms and conditions of the relevant travel service provider.
Prices quoted valid for sale until 04 August 2021 for travel during the period specified (if applicable) unless otherwise stated or sold out prior.
All prices are per person (unless otherwise stated), subject to availability and may be withdrawn or varied without notice. Accommodation (if included) is based on twin share unless otherwise stated.
Advertised price includes bonus nights and/or stated saving (if applicable).
Additional supplier conditions and travel restrictions may apply. Please enquire for further details.
Airfare (including internal flights) is not included unless otherwise stated and, if included, is economy class unless otherwise stated.
Components of the total price including local payments, "resort fees", "national park fees", "trip kitties" and food funds (if applicable) may be payable direct to the supplier on arrival or to your travel consultant prior to your departure. Where applicable, these payments are included in the total price quoted.
Gratuities are not included unless otherwise stated.
Prices shown are fully inclusive of taxes, levies and government charges current at the time of publication.
Additional levies, government charges & other applicable fees, including additional taxes, surcharges and visa fees specific to your departure date or flight routing, may apply and are beyond our control.
Seasonal surcharges and blackout dates may apply depending on date of travel.
Prices shown are for payments made by cash in store or by BPAY.
Payments made in store by credit card will incur a surcharge (see Booking Terms and Conditions for further details).
These prices are a guide to the best price and are subject to change without notice, due to matters outside our control, such as adverse currency fluctuations, fuel surcharges, taxes and airfare increases. Please enquire for further details..
We receive payment from third party travel service providers when you use us to book travel and travel-related products and services with them on your behalf.
Our liability to you is limited in certain situations, and we may charge you a cancellation fee(s) in certain circumstances. See our booking terms and conditions for further details.
We may provide your personal information to third parties, including travel service providers with whom you make a booking. See our privacy policy for further details.
Important Notice
The above information has been obtained from the relevant suppliers and should be considered an indicative guide only as to the prices that may be available for these products. Flight Centre cannot guarantee that any particular product will still be available at the following prices, or for your exact dates of travel. At the time of making your booking, prices may differ to that price displayed on this website. Please contact a Flight Centre travel consultant to obtain the latest up to date information regarding applicable prices, fees and charges, taxes, availability, any blackout dates (such as school holidays), seasonal surcharges and other terms and conditions which may apply.
Contact an Expert to find out more about this tour and other amazing tours!
Talk to a travel expert and personalise your trip
From quick getaways to dream holidays
We're the biggest travel agency south of the equator with access to destinations right around the world. Anywhere you want to go, we can take you there.
Book Now Pay Later!
Where ever you want to fly, cruise, tour or stay, you can holiday sooner with our Interest Free Holidays.
Real People, Real Experience, Real Easy
Our Travel Experts love travel as much as you do. Book with us, knowing you're getting the best advice from the best in the business.