Cabin Classes
Economy
Passengers flying international short haul Economy with Virgin Australia have two choices of fares: Saver or Flexi. Flexi fares are a step above the basic level and include a complimentary meal, while Saver fare guests are able to purchase snacks and beverages on board. Luxury leather seats in economy on short haul international flights have a pitch of up to 75 centimetres and width of 43 centimetres. 
International long haul passengers flying Economy on Virgin Australia are treated to 81 centimetres of legroom, a USB connection to power personal electronic devices and all-inclusive food and drinks. 
Premium Economy
Bridging the gap between Economy and Business Class, flying Premium Economy can make your journey just that little bit smoother. International short haul passengers are seated in comfortable leather seats with an 86 centimetre pitch and 45 centimetre width and are treated to complimentary food and beverages from a menu designed by chef Luke Mangan. 
International long haul flyers are spoiled with 15.24 centimetres more leg room than economy guests, stylish amenity kits with Grown cosmetics and a stand-up bar serving premium beer, wine and liqueurs. Premium Economy fares also award you an increased baggage allowance, priority check-in and access to a selection of lounges in Australia and New Zealand for short-haul travellers.
Business Class
Virgin Australia's Business Class boasts second-to-none comfort as you soar the skies. The luxuries of an all-inclusive Business Class fare for international short haul passengers begin before you even set off, with priority check-in and boarding. On board, recline in your 95-centimetre pitch leather seat with a newspaper and mocktail in hand and choose from a gourmet menu designed by Luke Mangan. 
International long haul guests are granted access to lounge facilities, can rest easy in a fully flat 1.88 metre bed-seat and are granted extra privacy with screens between seats. Champagne on arrival, mood lighting, noise-cancelling headsets and deluxe amenities are just some of the Business Class bonuses.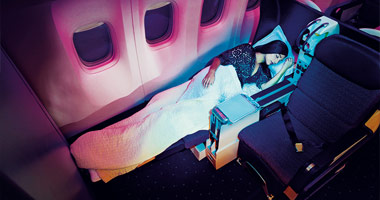 Entertainment Options
Virgin Australia's in-flight entertainment offerings for international short haul services provide guests with a wide choice of movies, television shows and music. Currently, Virgin Australia is rolling out their in-flight wireless service, meaning entertainment offerings will be accessible from your personal Wi-Fi device.
Premium Economy guests and those who have purchased a Flexi fare are provided with a digEplayer loaded with movies, TV and music, while Business Class guests and Flexi fare passengers on flights over three hours have the use of a complimentary Samsung Galaxy Tab on a number of flights. All other flyers can hire a digEplayer or Samsung tablet for $AUD15.00 subject to availability. 
International long haul flights come with Virgin Australia's award-winning entertainment system Red free for all guests. Classic movies, favourite TV shows, games, music and more are loaded onto a touch-screen handset. There are also in-seat power outlets and USB ports in Business and Premium Economy for guests to run their own devices. 
Baggage
Virgin Australia Baggage Allowance
Carry-On
All guests travelling on international flights with Virgin Australia are allowed 7kg of carry-on baggage, including passengers in Premium Economy or Business Class. For international short haul travellers, carry-on includes either two pieces of luggage (a small bag or briefcase) or one small bag weighing up to 7kg.
International long haul passengers are permitted to take one 7kg piece of luggage plus one "personal item" such as a laptop, handbag, small camera or blanket. Long haul Business Class passengers may take two pieces of carry-on and one personal item as long as no item exceeds 7kg. 

Some handy things to pack in your carry-on include an eye mask, hand cream, phone charger and a spare shirt to freshen up.

Checked
Checked baggage is inclusive for all international short haul flights excluding Saver Lite fares. Velocity frequent flyer members are awarded an increased baggage allowance depending on their membership level and the type of fare they have purchased. For example, Red, Silver and Gold Velocity members travelling short haul international in Premium Economy or Business Class are able to take two pieces of checked baggage weighing up to 32kg each, while Platinum members may take three pieces. 
For international long haul guests, the checked baggage limit is dependent on the destination you are travelling to as well as your Velocity membership status. While all guests receive a minimum of two pieces of checked baggage weighing up to 23kg each, Velocity membership does increase the amount of items you can take as well as the weight limit. 

Take one empty suitcase with you as part of your checked baggage so you can shop until you drop!
Bulky Items
Oversized or bulky items are able to be taken as checked baggage provided they do not exceed 32kg in weight - items exceeding this weight limit must be sent as freight. The maximum measurements for oversized items on international long haul flights are 227cm long x 100cm high and 84cm wide.
Sports equipment such as bikes, golf clubs, snow skis and surfboards count towards your checked baggage allowance. If you require these items in addition to your checked baggage, they will be charged at 50 per cent of the full excess baggage rate on international flights. 

To pack a bike in a bike box: turn the handlebars in and secure to the frame, remove pedals and front wheel if possible, lower or remove seat post and deflate tyres.

Infant Baggage
In addition to their own checked baggage allowance, adults travelling with infants on international long haul flights are able to check one stroller, bassinet or car seat with their luggage and take one extra piece of carry-on weighing up to 7kg. For flights from Australia to the USA, adults with infants are allowed one additional piece of baggage up to 23kg, and up to 10kg to all other long haul destinations.
For international short haul flights, adults accompanying infants may check "special items" such as a stroller, portable cot and car seat free of charge, irrespective of their combined weight. 

Bassinets are available on all long haul international flights and the flight crew can help wash and heat up bottles.
Restricted or Dangerous Goods
There are a number of items that are not permitted on board the aircraft as either carry-on or checked baggage. This includes gas cylinders, sparklers and fireworks, bleaching powders and peroxides, pool cleaning products and poisons.
Some dangerous goods are permitted in checked baggage as long as they are declared at the point of check-in, such as camping stoves, battery powered mobility devices and electronics with lithium batteries.
Alcohol is permitted as carry-on or checked baggage, so long as it does not exceed a net total of five litres per person and is contained within its retail packaging. For more information on baggage restrictions, refer to the Australian Government Liquids, Aerosols and Gel Guide.

If in doubt, leave it out. Even if you accidentally take a dangerous good on board an aircraft you can be fined and penalised.
Check-in
Check-in & fly out with ease
All guests flying with Virgin Australia internationally must check-in at the airport check-in counters. International check-in is available from three hours up to 90 minutes prior to departure. Have your passport and travel documents read, and remember to allow time for increased security measures and customs and immigration at international airports.
Silver, Gold and Platinum Velocity members have their own dedicated check-in queues and guests travelling in either Premium Economy or Business Class often receive priority check-in.
International Check-in Guide
at home
Know what time you need to leave the house to get to the airport
Pack your things, check out our baggage guide
Have your flight itinerary ready
Ensure you have your valid passport ready
Getting there
Be at the airport at least

120 minutes

prior to scheduled departure time
At the airport
Proceed to check-in counter with passport and itinerary ready
Go through security
Continue through customs
Check the gate number and flight status
Sit down and get comfy!
Lounges
Virgin Australia's Partner Lounges
In conjunction with its prestigious partner airlines, Virgin Australia offers selected access to luxurious pre-departure lounges all across the world. Partner airlines include Air New Zealand, Airberlin, Delta Air Lines, Etihad Airways, Hawaiian Airlines, SilkAir, Singapore Airlines and other Virgin outfits. 
Stylish design, first-class service, a selection of gourmet food and beverages and facilities for business on-the-go are just some of the benefits that exclusive airport lounges provide. The perks are endless and lush amenities ensure you take to the skies feeling relaxed and ready to holiday in style.
Virgin Australia's premier partner lounges abroad include Singapore Airlines SilverKris Lounge, Delta Air Lines Sky Club and Air New Zealand Koru Lounge. 
Entry to the Lounge
Lounge access is determined by your eligibility (cabin class and/or Velocity membership status), the operating airline and departure city. Business Class and Premium Economy passengers, Velocity Gold and Platinum members and Virgin Australia Lounge Members are granted access to an extensive network of lounges worldwide.
Premium Economy guests and Lounge Members are able to unwind before they fly at a selection of lounges in Australia and New Zealand.
Frequent Flyer
Velocity Frequent Flyer Program
Virgin Australia's Velocity frequent flyer program is the most rewarding way to fly, boasting a range perks both immediate and in the long run. You can cash in your Velocity points on flight upgrades, car hire, hotel deals and heaps of other travel extras.
Being a member of Virgin Australia's Velocity program also means you will be among the first to hear about latest travel deals, as well as receive increased baggage allowance, priority check-in and a range of worthwhile extras as you work your way up the Velocity status ladder. 
Velocity status levels
Red
"Status credits" are accrued if you use your Velocity membership number for every one-way trip on Virgin Australia (calculated by mileage). Red membership is Velocity's entry level membership and allows you to earn and redeem points, book with advanced seat selection and receive special promotions. 
Silver
Moving from Red to Silver Velocity membership requires you to earn 200 status credits and fly two eligible sectors within 12 months. Silver Velocity membership gives you the added advantage of advanced seat selection, a checked baggage allowance, personalised luggage tags and priority check-in. 
Gold
To make the leap from Velocity's Silver to Gold, you need to accrue 500 status credits and fly four eligible sectors within a 12 period. Gold Velocity members get all the bonuses of Silver membership, as well as entry to the Virgin Australia Lounge and over 150 lounges globally, priority screening at major domestic airports and priority baggage check. 
Platinum
Velocity's highest membership level comes with all the added extras a frequent flyer could ever want! Selected valet service, UpgradeMe points, priority check-in and boarding and much more. To automatically jump from Gold to Platinum membership requires 1,000 status credits and eight eligible sectors. 
Fleet
Virgin Australia International Aircraft
Boeing 777-300ER